Image
Equipping precarious households with renewable energy through citizen investment
Published on 08 July 2022

France
Rhône-Alpes
noemie zambeaux
project manager
About this good practice
As part of the POWERTY project, identified the 3 main barriers that prevent low-income households from equipping their homes with RE: the cost of access, the technical complexity and the administrative burden.
These barriers can be overcome if the investment and the project are carried out by a third party. However, because low-income households are not always solvent and the return on investment is long, no private offer exists on the market.
The citizen energy communities (CEC) as intermediaries for households, one urban on collective housing buildings and one rural on individual houses, mobilising citizen financing to install RES. CEC are patient investors which tolerate long payback periods (over periods of 12 years). With them, a contractual and economic model has been devised which allows the CEC to take full responsibility of procedure, both administratively and financially, by installing RES on behalf of the household.
The energy agencies study each case, propose the best technological solutions, study the subsidies available, and check the feasibility of the project.
The CEC can then intervene to take charge of the equipment and the administrative procedures. The beneficiaries pay back the amount of the investment through a rent calculated on the basis of the expected savings as an ESCO model.
Switching from a fossil fuel-based installation to a RES results in a slight decrease in the households' bills and also makes them less dependent on energy price fluctuations.
Resources needed
20,000 euros for legal studies and business plan development;
20,000 euros for advisory visits from the Agencies for the Energy Transition;
17,000 euros for project management and monitoring time for the AURA-EE teams
The energy communities are run by volunteers (free) who put about 2 man months.
Evidence of success
•1 contractual and economic model that allows an energy community to take full responsibility for administrative and economic procedures
• Detected the interest of low-income households for this good practice
• Identify 5 single-family homes and two buildings with more than 100 homes interested in this model.
• Study of the different investments in technological fields as diverse as heat pumps, wood energy, solar thermal... the range of possibilities is significant.
Potential for learning or transfer
About 11 to 15% of european population are concerned by fuel poverty. It is an important issue that CECs address these populations when studies on the subject show that they are rather excluded (https://www.sciencedirect.com/science/article/abs/pii/S2214629621003376).
A national level, the 300 French energy communities will be able to directly benefit from the legal and economic contributions through the dissemination of the results in the AURACLE and Energie Partagée networks to porpose a specific contatc for precarious haousehold.
At the European level, the recent European directives on energy communities allow the offer of energy services, these communities remain patient and interested investors in the fight against fuel poverty, but adaptations of the contractual modes to the national legal frameworks are to be expected.
Further information
Images
Image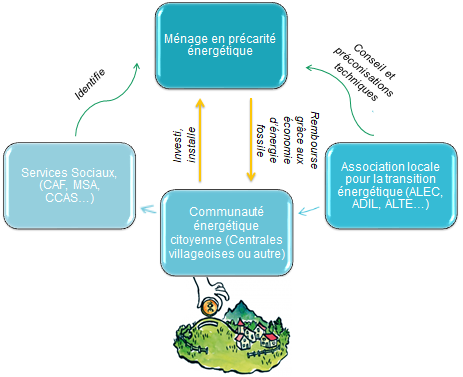 Image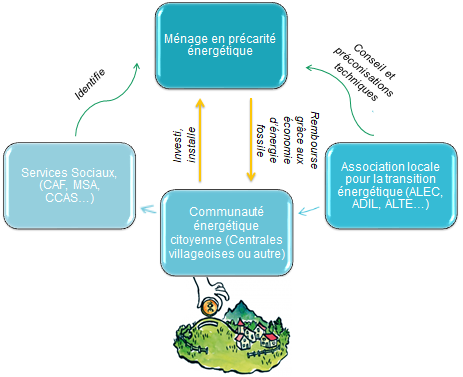 Website
Good practice owner
Organisation
Auvergne-Rhône-Alpes Energy Environment Agency (AURA-EE)

France
Rhône
Members are interested in
Contact
noemie zambeaux
project manager