Image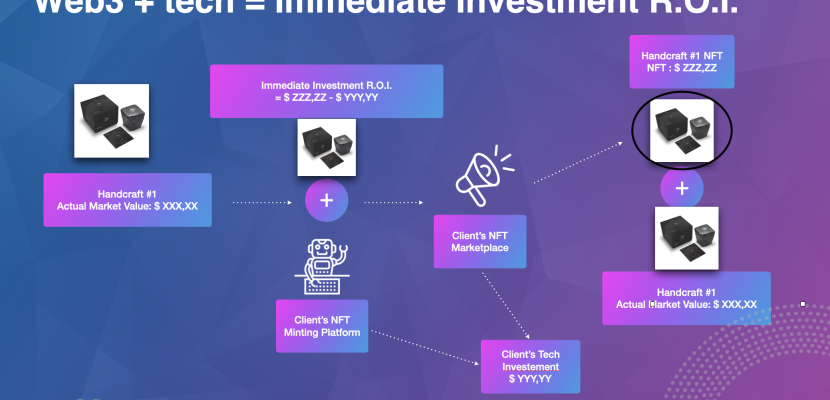 Digital Twin as new assets to generate value in the artisanal environment
Published on 04 August 2022

Italy
Alessandro Monti
General Manager
About this good practice
The handicraft ecosystem faces important challenges in respect to sustainability and ability to maintain and grow its value. Many are the challenges related to the intellectual property protection and certification of handicraft products. A lot of difficulties arise from the inability to keep the value of skills and knowledge safe, outside the product itself. The GP allows the use of digital assets to strengthen the real value of artisan products. The first step is a specific assessment of the artisan/product value and business model that will generate impacts in three specific areas: data, assets, value proposition. Exploiting NFT (Non Fungible Tokens) and smart contract it is then possible to create a digital twin, immediately increasing the value of the real object through the addition of specific services dedicated to the customer and the ecosystem of the craftsman too. The creation of NFTs/digital twin related to artisan products/skills/knowledge enable to engage costumers by means of information and services that can be automatized by the use of algorithms. Overall a new interoperable ecosystem/community dedicated to the specific world of artisans and craftsmanship is developed by means of Artificial Intelligence, Blockchain, IoTs et al. Moreover it is possible to create an ecosystem/community for artisans who share the very same value of intellectual property and competence over complex techniques and abilities that need to be protected and increased in their value.
Resources needed
Around 180.000,00 euro are necessary to build the infrastructure of NFTs and Smart Contracting based on Artificial Intelligence automation. Three to five people need to be involved in the project and the ecosystem of artisans as a pilot test environment to be used.
Evidence of success
Clear notices have been received that this method had success in many different environments, as industries, social systems, fashion, art and so on. E.g., an artifact in limited edition has been digitally twinned to become an NFT with a high exchange value.
Potential for learning or transfer
The good practice has a high potential to be transferred and assimilated quickly and on a large scale but only if well explained and accompanied in some conceptual passages that are not easy to understand due to the enabling technologies involved.
A specific use case is a clear example, a cobblestone designer who sold works to a small market as unique pieces approached an NFT integration project that allowed him to become a reality that produces urban revaluation projects in the city of Rome, attracting the interest of all his ecosystem. The GP has a high level of interest for policy and decision makers too, since it allows for implementing/funding a new high valued solution to boost the digital transition/transformation in respect to natural/cultural heritages. The GP could suggest a way of developing specific policies to favor the uptaking of such performing and modern solution by a sector sometimes reluctant to exploit too advanced methodologies and tools like NFTs and blockchain.
Further information
Images
Image
Image
Image
Image
Website
Good practice owner
Contact
Alessandro Monti
General Manager