Image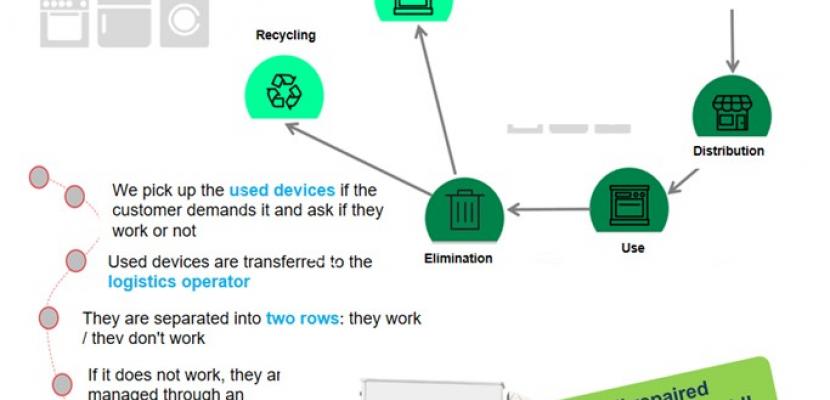 BSH Preparation for Reuse
María Ángeles Pintor
Gobierno de Aragón
About this good practice
To promote the culture of repair and reuse, BSH Hausgeräte GmbH has introduced circular economy practices. BSH has an agreement with AERESS, a non-profit Spanish Association for the Social and Solidarity Economy, to carry out a project of preparing for reuse of old appliances. AERESS members in Spain, like Koopera, are dedicated to teach and provide jobs to people at risk of exclusion.
This project started with Koopera that has a workshop close to BSH logistic platform in Vizcaya, Spain. In this logistic platform, BSH stores old WEEE (Waste Electric and Electronic Equipment) collected from users when a new appliance is delivered to their houses.
If the old appliance works, the device is identified and sent for selection if it is going to be fixed to re-use. The team from Koopera is trained by BSH and follows the internal high-quality guidelines.
The selected WEEE are sent to Koopera to fix, and each one is identified by a tracking 10-digit code tag (ECOLEC WEEE-Tracking Tag).
BSH has given access to the Customer Service tool called "Quickfinder" with information on spare parts, exploded views of the appliances, repair, and user manuals, etc. Some workers of AERESS attended training in the Central Customer Service of Zaragoza.
The selected appliances are repaired with a full guarantee and are offered in the second-hand market. All of them are sold.
The project started with Koopera in Vizcaya, but currently BSH works with other 8 AERESS members across Spain.

Resources needed
The resources needed include the BSH logistic platforms (warehouses) across Spain, the Direct-Delivery resources (trucks, workers, and operators) from the logistics department and people from Customer Service (approx. 100 people). AERESS provides workers who repair and sell the 2nd hand appliances.
Evidence of success
The total amount of appliances prepared for re-use was 35,3% of cooling appliances and 22,6% of big household appliances. This means that appliances collected from BSH have been of excellent quality. Only about 5%-6% of the collected appliances for AERESS from the municipal waste collection were prepared for re-use, and with the WEEE (Waste Electric and Electronic Equipment) provided by BSH, the rate increased to 36% in 2018 (31% improvement).
Potential for learning or transfer
BSH aims to keep on working with AERESS and replicate this project in some other cities in Spain if possible. Not all the members are ready to develop these practices, but BSH tries to promote it. BSH has a similar project in Belgium.
Thanks to this project in 2018, 31.7% of the managed electrical and electronic devices were reused, thus avoiding 65,733 kg in CO2 emissions. Besides, because the work was carried out with entities with social purposes, it contributed to generating 39 months of work for a person in a situation or at risk of social exclusion employed in this activity. It also generated an economic return to society of 45,082.76 euros.
It is important to transfer this practice because of the social benefits for local associations in terms of jobs, and the environmental benefits related to preventing waste and increasing the 2nd hand market available for functional home appliances.

Further information
Website
Good practice owner
Organisation
BSH Electrodomésticos España S.A.

Spain
Aragón
Contact
María Ángeles Pintor
Gobierno de Aragón